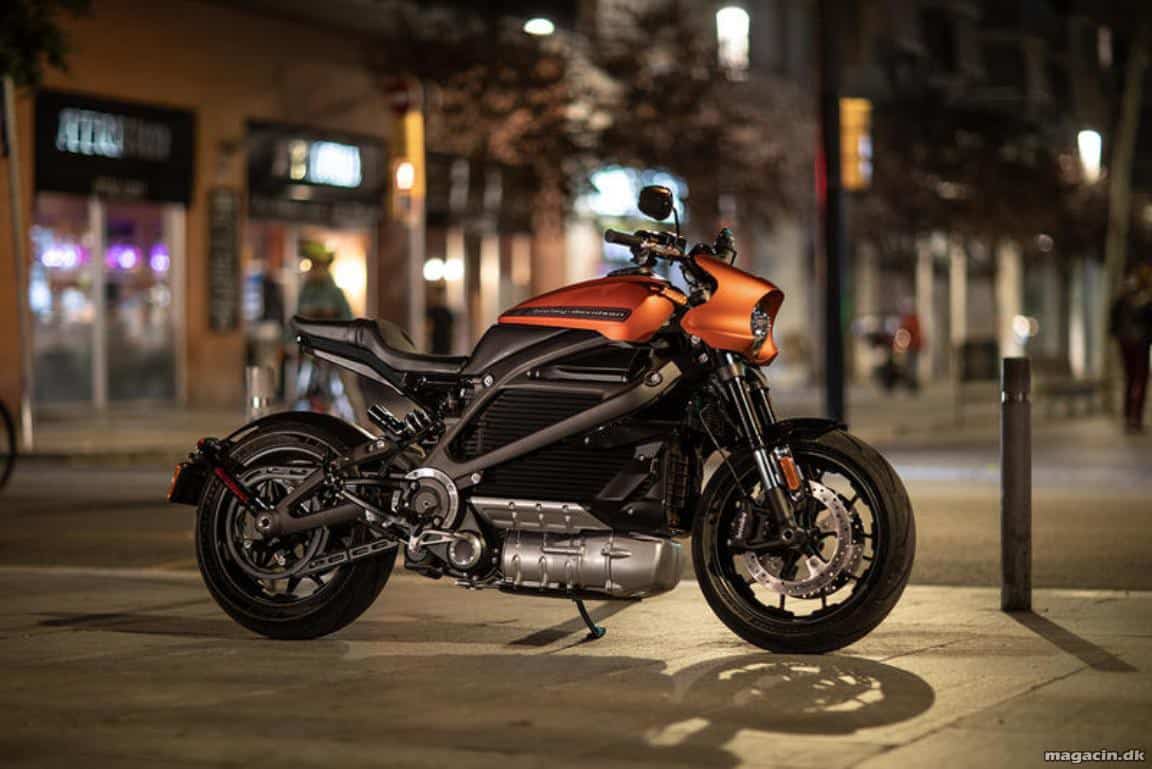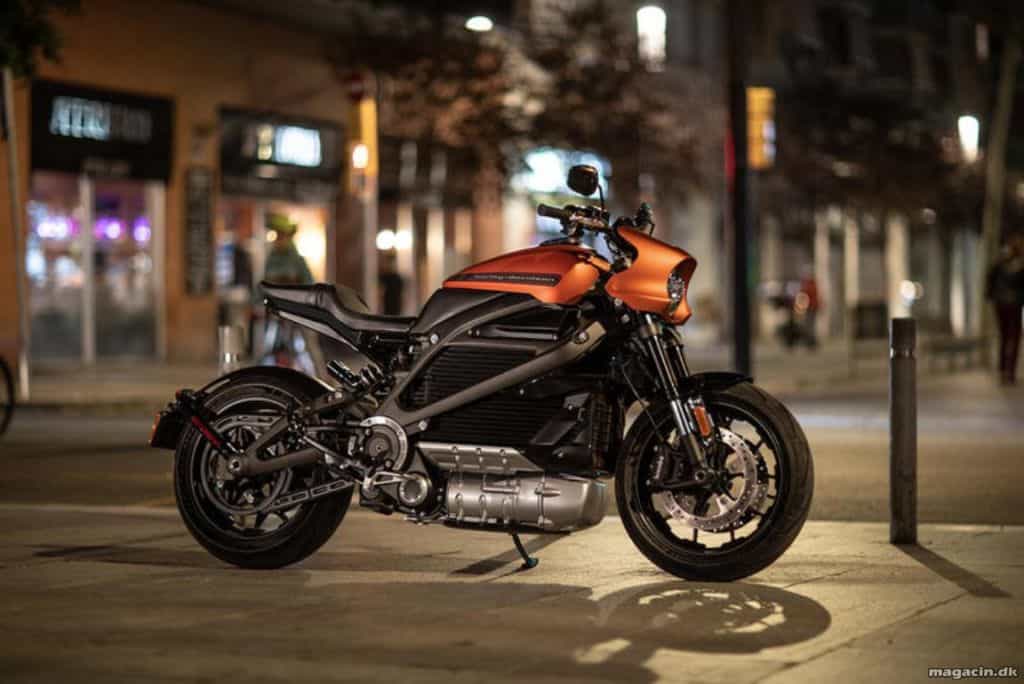 Nu kan Harley-Davidson LiveWire bestilles
Steffen Olesen
17/04-2019 kl. 09:20
Der findes næppe en levende sjæl, som ikke har hørt om fremtidige elektrisk drevne modeller fra Harley -Davidson, hvor vi er gennem længere tid er blevet stopfodret med informationer specielt om den nye LiveWire™.
Hvad, hvor meget og hvornår?
Medierne er flydt over med spændende læsning, flotte videoer og billeder, og LiveWire er interessant at beskue hvis man har været så heldig at rende over et fysisk eksemplar.
Vi så modellen præsenteret ved efterårets motorcykeludstilling EICMA i Italien, og kunne i Februar måned i indeværende år fortælle hvad Harley-Davidson LiveWire kommer til at koste med dansk nummerplade monteret.
Dkr. 281.900,- er prisen hvis modellen skal færdes på dansk asfalt.
Vi kender de tekniske specifikationer, vi ved hvordan modellen ser ud og vi ved hvad den koster. Så nu mangler vi bare viden om hvordan modellen fungerer i praksis, og hvornår kunder på det europæske marked kan få lov til at købe den.
Det sidste spørgsmål har Harley-Davidson netop besvaret, med en pressemeddelelse som oplyser at det nu er muligt at forudbestille Harley-Davidson LiveWire.
Harley-Davidson har markeret nyheden med Pre-Order videoen du kan se herunder.
Det er fra d. 15. April muligt at forudbestille Harley-Davidson LiveWire, men den ivrige køber må væbne sig med tålmodighed en stund endnu, da Harley-Davidson LiveWire efter de seneste oplysninger skulle være klar til levering i September måned.
Harley-Davidson i Danmark, oplyser at de to Cap's Harley-Davidson forhandlere i København og Aarhus valgt, at salget af den nye LiveWire™ motorcykel i første omgang – med det set-up der kræves – foregår fra butikken i København. Forudbestillinger sker således hos Cap's Harley-Davidson Copenhagen.
Du kan forudbestille Harley-Davidson her.
Se pressemeddelelsen som er udsendt i forbindelse med åbning for forudbestilling herunder.
Pressemeddelelse:
HARLEY-DAVIDSON ANNOUNCES LIVEWIRE™ MOTORCYCLE EUROPEAN
PRE-ORDERS OPEN ON APRIL 15th
OXFORD 5th April 2019
–
· European pre-orders for the new LiveWire™ electric motorcycle open April 15
· First deliveries due autumn 2019
· Limited availability – interested customers are advised to order early
· LiveWire™ accelerates to 60 miles per hour in 3 seconds, delivers 140 miles range on a full charge and will fast charge to 100% in one hour*
Harley-Davidson® has today announced that European pre-order period for the all-new electric LiveWire™ motorcycle is now open. Interested parties can visit the Harley-Davidson website to discover their nearest authorised LiveWire dealer and place a pre-order deposit at their selected dealership. Only dealerships nominated as authorised Harley-Davidson LiveWire retailers are able to take a deposit and secure a pre-order motorcycle from the initial European allocation. First deliveries are expected in autumn of 2019.
"We're really excited to announce that pre-orders for LiveWire will open in Europe on the 15th", comments International Marketing Director Steve Lambert "We've had an unprecedented level of interest in the bike with so many people wanting to be first to get their hands on it. We're looking forward to delivering the new LiveWire to those lucky owners in autumn. LiveWire is not only an exciting new product for the company, it is an incredible riding experience. We're confident in its future and how it will help shape the two-wheeled electric vehicle market."


The LiveWire represents the future of Harley-Davidson, bringing high-performance electric propulsion, evocative design, and cellular connectivity to today's rider. The LiveWire's H-D Revelation™ powertrain delivers extreme power in a seamless rush while the simplicity of operation allows the rider to focus more completely on the real thrill of motorcycling – the dynamic sensations of acceleration and motion. LiveWire can accelerate from 0 to 60 mph (0 to 100 kph) in 3.0 seconds and 60 to 80 mph (100 to 129 kph) in 1.9 seconds. The high-voltage battery provides 140 miles (225 km) of range city or 88 miles (142 km) of range combined, measured using the MIC City and MIC Combined use cycle at 70 mph.
The LiveWire's dynamically capability is maximised with a chassis is designed to deliver nimble, agile handling for confident control on urban streets and a thrilling ride on curving backroads. Premium high-performance SHOWA® front and rear suspension is paired with an extremely rigid lightweight cast aluminum frame to give precise, responsive handling that makes the LiveWire model exciting to ride in any situation. Brembo® Monoblock front brake calipers further contribute to the precise control available and deliver a crisp feel for confident braking performance.
Completing the LiveWire's riding dynamic is an Electronic Chassis Control (ECC) system that utilizes the cornering-enhanced Anti-lock Braking System (ABS), Traction Control System (TCS) and Drag-Torque Slip Control System (DSCS) to monitor and manage front and rear brake torque as well as motor torque to the rear wheel to enhance rider control and balance vehicle performance across diverse riding environments. The system is fully electronic and utilizes the latest six-axis inertial measurement unit (IMU) and ABS sensor technology. The separate functions of ECC work together to give the rider more confidence and control in less-than-ideal situations.
LiveWire's power is replenished through a number of charging options. An on-board Level 1 charger plugs into a standard 120-volt (or 240-volt) household outlet with a power cord that stores below the motorcycle seat. Level 1 RPH (range per hour) of charging time is 13 miles for each hour of charging; the LiveWire motorcycle is expected to get a full charge overnight with Level 1 charging. Alternatively a Level 3, or DC Fast Charge (DCFC), may be used to charge the LiveWire motorcycle through a SAE J1772 connector (CCS2 – IEC type 2 charging connector in European and some other international markets). All Harley-Davidson dealers who sell the LiveWire motorcycle will offer a public DCFC charging station. Level 3 RPH (range per hour) of charging time is 192 miles for each hour of charging. That is 0-80% DC Fast Charge in 40 minutes. 0-100% DC Fast Charge in 60 minutes.
The LiveWire motorcycle is equipped with H-D™ Connect service, technology that provides cellular connectivity that can link a LiveWire owner with their motorcycle through their smart phone using the latest version of the Harley-Davidson™ App. H-D Connect Maxwell allows owners to connect remotely to their LiveWire motorcycle and allows for viewing of key vehicle health information. It also provides the owner with the reassurance of being able to remotely monitor their motorcycle's security, including tamper alerts on the H-D app and stolen-vehicle assistance.
Leading in the electrification of the sport of motorcycling is part of Harley-Davidson's comprehensive More Roads plan focused on new products, broader access and stronger dealers. LiveWire is one of many new electric vehicles designed to unlock new markets and new segments and build the next generation of riders globally.
For more information on the new Harley-Davidson LiveWire motorcycle, as well as updates on future additional bikes, visit
Harley-Davidson.com/Electric
or the brand's
Facebook
,
Twitter
or
Instagram
channels
.
About Harley-Davidson Motor Company
Harley-Davidson, Inc. is the parent company of Harley-Davidson Motor Company and Harley-Davidson Financial Services. Since 1903, Harley-Davidson Motor Company has fulfilled dreams of personal freedom with custom, cruiser and touring motorcycles, riding experiences and events and a complete line of Harley-Davidson motorcycle parts, accessories, general merchandise, riding gear and apparel. Harley-Davidson Financial Services provides wholesale and retail financing, insurance, extended service and other protection plans and credit card programs to Harley-Davidson dealers and riders in the U.S., Canada and other select international markets. For more information, visit Harley-Davidson's Web site at
www.harley-davidson.com
.
*Disclaimer for range statement:
o Riding range estimates provided following the SAE J2982 and are based on expected performance of a fully-charged battery when operated under specified conditions. Actual range will vary depending on riding habits, ambient weather and equipment conditions.
Del med en ven