Bekræftet: Firecylindret Kawasaki Ninja ZX-4R med 80 hk til Europa
BREAKING: Ny firecylindret Kawasaki ZX-4RR officielt lanceret.
Sådan lød overskriften på artiklen her på MagaCin 1. Februar, da Kawasaki Motors Corporation præsenterede den spændende firecylindrede Kawasaki ZX-4R i USA.
Se de fulde specifikationer for modellen nederst i artiklen.
Lanceringen af den ny Kawasaki ZX-4R foregik uvist af hvilken årsag dengang eksklusivt i USA, men som du kunne læse i artiklen der er linket til herover, får vi europæere også senere på året glæde af den hidsige screamer, hvor omdrejningstællerens røde felt begynder over 15.000 omdr.
Det fik vi dengang mundtligt bekræftet fra officielt hold, og nu bakkes løftet op af Kawasaki's europæiske presseafdeling.

Officielt nyhedsbrev
Selv om Kawasaki's europæiske website endnu ikke har opført Kawasaki ZX-4R som en del af det officielle 2023 modelprogram, så frigav Kawasaki's europæiske presseafdelingen kort tid efter MagaCin skrev om nyheden dette nyhedsbrev, hvori det endnu en gang bekræftes, at modellen efter planen rammer det europæiske marked i efteråret 2023.
Og så får vi endelig helt officielt oplyst vigtige nøgletal, som 80 hestekræfter med fuld ram air til en opgivet vægt på 188/189 kg afhængigt af, om det er en Kawasaki Ninja ZX-4R / Ninja ZX-4RR eller en Ninja ZX-4R SE, og en kort akselafstand på 1380mm.
Modellen er som bekendt allerede officiel hos Kawasaki USA og dermed også hos Kawasaki i Canada.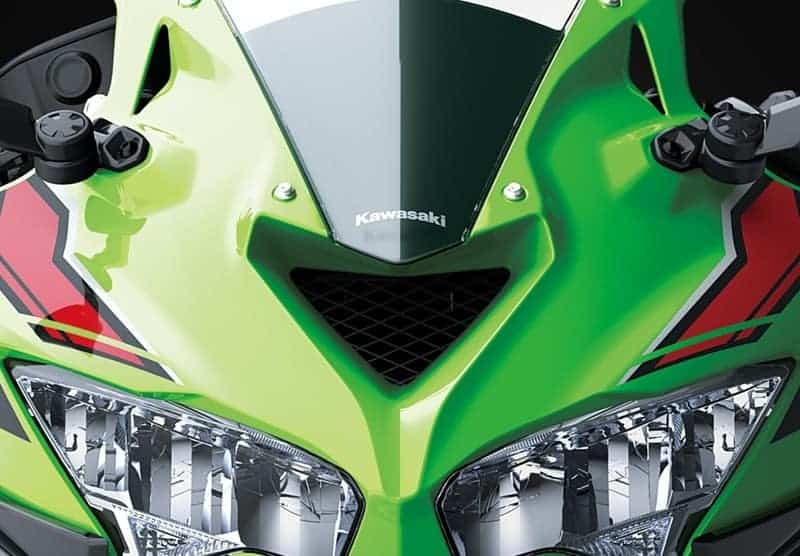 Et detaljeret billedgalleri samt officiel video med den nye Kawasaki ZX-4R har vi desværre ikke kunnet opstøve.
Derfor bringer vi i stedet yderligere lidt billeder vi har sakset fra Kawasaki's website samt en video, som mediet GRIPPEDIA for ikke så længe siden har delt på YouTube.
Vær forvisset om, at MagaCin også er på pletten, hvis og når en eventuel officiel europæisk præsentation finder sted.
Det må man næste forvente sker.
Men foreløbig må vi tage til takke med de forhåndenværende oplysninger, som altså nu også inkluderer indholdet i Kawasaki's europæiske afdelings officielle nyhedsbrev.
Se hvad Kawasaki skriver i nyhedsbrevet under dette afsnit.
Kawasaki to introduce Ninja ZX-4R four-cylinder Supersport
Kawasaki Motors Corporation has announced that it will launch a mid-weight, high performance machine in its famous Ninja range to be called the Ninja ZX-4R. Incorporating a newly designed engine and frame, the exciting new addition to Kawasaki's Supersports line will also include Ninja ZX-4R SE and Ninja ZX-4RR variants in countries where they are introduced in February 2023 and thereafter. The model is expected in Europe in the Autumn of 2023*.
Sådan lyder det i pressemeddelelsens indledning, som i uredigeret form fortsætter således:-
With specifications varying by market, the most powerful Ninja ZX-4R is equipped with a high-output engine that delivers an exceptional 80 PS in a lightweight, compact Ninja ZX-25R-based chassis for superior cornering performance and acceleration feeling. At its introduction, the Ninja ZX will be the only full-fairing supersport model in the 400cc class with a parallel four-cylinder engine. It inherits the aggressive appearance and premium equipment expected of the Ninja ZX family while refining the sensation-provoking exhaust sound of the high-revving four-cylinder engine.

Whether a seasoned rider or new to the joys of Supersport, Ninja ZX-4R riders will experience the exciting riding pleasure of the "APEX PREDATOR" concept on the racetrack or on the street.

At the heart of this immediately impressive machine is a newly developed 399cc liquid-cooled, parallel 4-cylinder DOHC engine based on technology from Kawasaki's legendary Ninja ZX series of supersport machines, which is able to deliver a maximum output of 57 kW (77 PS) and 59 kW (80 PS) when ram air is pressurized*. The engine has been conceived to combine strong low- and mid-range torque with strong power at high rpm and in all riding situations, from daily use to on-track sport riding.

Equipped with Kawasaki's world-famous Ram Air system that increases filling efficiency and contributes to improved engine performance, the air intake is located in the centre of the upper cowl, providing styling that is instantly recognisable as part of the Ninja ZX series. The Ram Air ducts are located on the left side of the front forks, leading to the airbox while the "Ram Air" stamping is visible to the rider to show off the performance of the Ram Air system. The ultra high-revving engine, which revs above 15,000 rpm, delivers the exhilarating exhaust sound that only a Kawasaki high-performance parallel four-cylinder engine can deliver.

In terms of chassis, the configuration is focused on excellent handling performance and is inspired by the chassis elements and design concept of the Ninja ZX-10RR World Superbike. Featuring a high-tensile steel trellis frame and a curved long-type swingarm, the frame achieves an idealised front-rear weight distribution plus an excellent balance of rigidity and flexibility, providing nimble handling and great rider feedback.

Showa's advanced SFF-BP front fork (Ninja ZX-4R SE and Ninja ZX-4RR models feature a preload adjustment mechanism) is featured with the rear equipped with a horizontal back-link rear suspension system offering the same progressive characteristics of the Ninja ZX-10R supersport model, contributing to the superb handling performance typical of supersport models. Additionally, the Ninja ZX-4RR variant features the same type of Showa BFRC-lite rear shock as the Ninja ZX-10R.

Braking power is delivered via φ290mm semi-floating front twin discs and radial-mounted monobloc calipers, while the rear uses a large-diameter φ220mm disc. The overall package delivers powerful braking force and excellent brake feel, response and power. In terms of braking effectiveness and grip, the F120/R160 tyre combination adopted is designed to match the Ninja ZX-4R's dynamic performance and provide excellent stability at high speeds.

At first sight there is no mistaking the lines of this new Ninja with its aggressive styling that exudes the power and instantaneous force that the Ninja ZX series is known for. The Ninja ZX-4R's high-grade appearance is also enhanced by the use of LEDs for all lighting, from the twin-light headlight to the taillight.

Electronic rider aids also feature prominently on this latest Ninja with integrated riding modes that link KTRC (Kawasaki Traction Control) and Power Modes. From four different modes – Sport, Road, Rain, and Rider (Manual), the rider can easily select the appropriate setting to suit the riding conditions and his or her own riding style. Also fitted to the Ninja ZX-4R SE and Ninja ZX-4RR is a dual direction KQS (Kawasaki Quick Shifter) enabling clutchless shifting up/down.

The meter panel of the Ninja ZX-4R is equipped with a 4.3-inch full-digital colour LCD screen providing high visibility and a premium feel. It integrates a track mode that displays lap times, gear positions, and RPMs from 10,000 rpm and above in an easy-to-read manner. The Kawasaki RIDEOLOGY application can be used to connect to a Smartphone for a variety of functions, including recording GPS route information and vehicle riding information.

*Specifications subject to change without notice
*Specifications may vary by market
*Introduction dates (and model variants introduced) may vary by market
In addition to the Ninja ZX-4R, the following two variants will be available according to market*
Ninja ZX-4R SE*
This special edition model features original colours and graphics inspired by the machines of Kawasaki's factory racing team, the Kawasaki Racing Team (KRT), as well as numerous accessories as standard equipment.
(Equipment)
-Dual direction KQS
-Smoked windshield
-USB power socket
-Frame Slider
Ninja ZX-4RR*
In addition to the original Kawasaki Racing Team-inspired colours and "RR" graphics, the rear suspension features Showa's BFRC-lite, the same type used on the Ninja ZX-10R supersport model. This specification allows for a more sporty riding experience.
(Equipment)
-Dual direction KQS
Comparison between 「Ninja ZX-4R*」「Ninja ZX-4R SE*」「Ninja ZX-4RR*」
Model
Ninja ZX-4R* / Ninja ZX-4R SE* / Ninja ZX-4RR*
Dimensions
1,990mm×765mm×1,110mm
Wheelbase
1,380mm
Ground Clearance
135mm
Seat Height
800mm
Caster/Trail
23.5° / 97mm
Engine type/ Valve system
Water-cooled, Four-Stroke, Four-Cylinder
Capacity
399cm3
Bore and Stroke
57.0×39.1mm
Compression ratio
12.3:1
Starter
Electric self-start
Ignition
Battery and Coil (transistor ignition)
Lubrication method
Wet Sump
Oil capacity
3.0L
Fuel supply
Fuel injection
Transmission
6 speed
Clutch
Wet multi-plate
Ratios
1st
2.929 (41/14)
2nd
2.056 (37/18)
3rd
1.619 (34/21)
4th
1.333 (32/24)
5th
1.154 (30/26)
6th
1.037 (28/27)
Primary/Secondary Reduction
2.029 (69/34) / 3.429 (48/14)

Frame layout
Trellis (High Tensile Steel)
Front
Telescopic
Rear
Swingarm (Horizontal back link)
Front
120/70ZR17M/C (58W)
Rear
160/60ZR17M/C (69W)
Front
Dual disc 290mm (Outer diameter)
Rear
Single disc 220mm(Outer diameter)
Steering angle (Left and Right)
35° / 35°
Vehicle weight
Ninja ZX-4R / Ninja ZX-4RR: 188kg
Ninja ZX-4R SE: 189kg

Fuel capacity
15L
Del med en ven