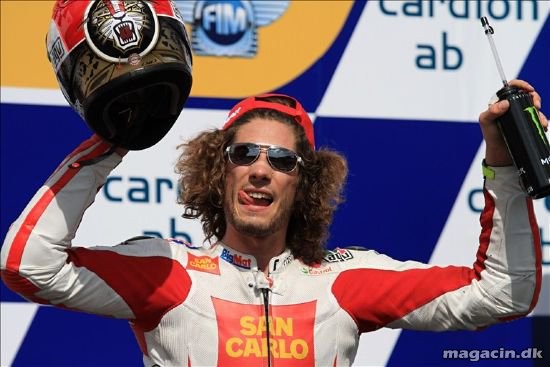 De sidste hilsner (Opdateret)
Tommy Rønn
24/10-2011 kl. 10:00
På Marco Simoncellis facebookside strømmer de sidste hilsner ind fra de mange fans og de mange der bare nød at se den spektakulære racerkører i aktion.
Ca. 10 hilsner i minuttet kommer der p.t. ind på facebooksiden. Det viser at Simnocelli var en højt respekteret pilot og sportsmand.
Ønsker du også at aflevere et sidste farvel til Marco finder du facebooksiden her: http://it-it.facebook.com/pages/Marco-Simoncelli/126161050743876
Her er motorverdenens stjerners sidste hilsner til Marco Simoncelli:
Ben Bostrom:
"Quality vs Quantity in life. We could all learn a lesson here. Live w/the passion Simo raced. Never know when your # is pulled. Ciao Sic"
John Hopkins:
"God Speed #58 Simoncelli… Your fighting spirit will live on forever!"
Jonathan Rea:
"Rest in peace Marco Simoncelli! A true inspiration, amazing rider and gentleman! Your legacy will never be forgotten!"
Eugene Laverty:
"Devastated to hear of the death of Marco Simoncelli, one of the best of our generation. Thoughts go out to his family. RIP Marco."
Marco Melandri:
"Have a safe trip Sic. Words can not explain the suffering."
Chaz Davies:
"RIP Marco. Our sport has lost a great rider and all round great guy. My thoughts are with his family.
Taka Horio – General Manager, Bridgestone Motorsport Department:
"Today we are left devastated. Our thoughts and prayers are with Marco's family at this terrible, terrible time, and with his team. Words can do no justice to the emotion we are all feeling. The MotoGP family has lost one of its bright stars, a genuine character whose larger-than-life persona, charisma and unstoppable spirit were infectious, and we've all lost a great friend.
"We worked closely with Marco for his first two years in MotoGP and it was clear that he was a true racer, something he proved again and again this season. Determined to the end, and a great showman. His ascent through the field in just two seasons has been fantastic to watch, testament to his raw talent, ability and dedication to the sport he so loved. We remember fondly the tenacity and spirit with which he raced, and he will be sorely, sorely missed."
Lewis Hamilton:
"RIP#MarcoSimoncelli. My thoughts are with his family, friends and team at this extremely sad time. Another tragic loss at such an early age"
Shuhei Nakamoto – HRC Executive Vice President:
"I just don't know what to say, words escape me. Marco was a very nice guy and a very talented rider. Sometimes I was a little harsh with him, for example after his first MotoGP podium in Brno when I told him: "Lucky podium!" and he was so angry… but I wanted to motivate him as I knew he was able to do even more. I was thinking that when he won his first race we would have been able to celebrate together… Now I just want to say thank you to Marco, for what you gave me and pass my sincere condolences to his family and this very sad time".
Dani Pedrosa:
"In a tragedy like this there is not much to say. I just want to give my condolences to his family and all the people who love him. I've been with his father and all we could do was to hug, nothing else matters. It was a fatal accident and everybody in the paddock remains in shock. Many times we ourselves forget how dangerous this sport can be and when you lose people on the way nothing has any meaning. It's clear that we all do what we like, what we love, but on days like today nothing matters".
Andrea Dovizioso:
"In these circumstances, words don't seem to be appropriate. I think of Marco's family and all the people dear to him, in particular his father and mother. I also have a child and what happened today is the hardest situation you can imagine. I watched the images and I'm shocked: in a race you fight and push hard and disaster is often around the corner. Marco was a strong rider and he always pushed hard. We raced together since we were kids, I saw him always pushing to the maximum, he crashed many times, but without major injuries, he was seemed invincible. What happened today seems impossible".
Casey Stoner:
"I'm so shocked and saddened by the loss of Marco. When things like this happen it reminds you how precious life is, it makes me feel sick inside. All I can say is how sorry I am for Marco's whole family I can't imagine what they are all going through and our thoughts and wishes are with them at this time. I hope they all stay close and pull through this tragedy together".
Valentino Rossi:
"Sic for me was like a youngest brother. So strong on track and so sweet in the normal life. I will miss him a lot."
Nicky Hayden:
"Sometimes life just don't make sense… RIP #58 your were a star on & off track we all going to miss you."
Ben Spies:
"Super Sic rest easy…"
Colin Edwards:
"Thanks to everyone for ur support at this time 🙁 Very sad to see a friend pass in any case. I'm holding up ok mentally, it was a very tragic accident 🙁 Physically, besides a dislocated shoulder & ligaments involved, think both wrists & left heel have fractures too, getting X-rays on Wednesday. I feel sad for the whole MotoGP community right now, my heart is heavy for everyone affected, from family to fans. God speed my friend, u will be missed"
Cal Crutchlow:
"RIP Marco Simoncelli! A great rider and all round nice guy. My thoughts are with all his family & friends. I will never forget today… #58"
Hector Barbera:
"I am in shock. We are bike riders and we are aware that there are risks involved with what we do, but we also know that every day our safety is looked after more and more by the organisers. These past few years have seen a huge amount of work done to try and make our job even safer.
"Despite this, there are moments in which misfortune can lead to tragedy -and we saw this happen today with Marco Simoncelli. Today is another tough day for motorcycle racing. We have lost a great companion, and I will remember Marco as a great rival with whom I had some fantastic battles in the past."
Karel Abraham:
"The Cardion AB Motoracing team extends its deepest condolences to the family, friends, and colleagues of Marco Simoncelli, who succumbed to injuries he received in the race at the Sepang International Circuit."
Jorge Lorenzo:
"I don't know what to say… Only that you will be missed. Rest in peace Marco."
"I was fortunate enough to be team mate to Marco in 2002. He was a genuinely fun guy and taught me my first unrepeatable Italian!"
Wayne Gardner:
"Stunned. Devastated. Huge huge loss for MotoGP and the world."
Carl Fogarty:
"I was really shocked by Marco's death yesterday. He seemed a real character – a breath of fresh air to racing. It was obvious he had a lot of talent too. It's a great loss to the sport and our thoughts are with his family, friends and team."
Tommy Hill:
"So so sad! Absolutely terrible and heart breaking when this happens in our sport! All my regards to MS family and close friends :("
Juan Pablo Montoya:
"RIP Marco Simoncelli. he was such a nice guy. My thoughts and prayers to his family and all his friends."
Mark Webber:
"R.I.P Marco A special talent that will be missed… Thinking of your loved ones, and all the motogp paddock..mark"
Jenson Button:
"R.I.P Marco… Such an exciting talent lost. My thoughts are with his family, friends and everyone involved in MotoGP. Sometimes Motorsport can be so cruel…"
Luca di Montezemolo – Ferrari President:
"I am very sad to hear of the death of Marco Simoncelli, I was very impressed by his speed, talent and the determination he showed this year. His qualities reminded me of Gilles Villeneuve and now, fate has chosen to link them in this tragic fashion. On behalf of everyone at Ferrari, I offer all our condolences to Marco's family for their loss."
Michael Bartholemy- Team Manager, Marc VDS Moto2:
"It is difficult to know what to say. We were all devastated by the news that Marco Simoncelli had lost his fight for life and had passed away this afternoon. Sometimes we forget that competing in this sport that we love is not without risk, only to have it driven home by a tragedy like this. Marco was a larger than life character who will be truly missed by all those that knew him. Our thoughts go out to his family and friends."
Indianapolis Motor Speedway:
"We are deeply saddened at the passing of Marco Simoncelli. He was one of the most charismatic figures in the World Championship and had a fantastic future ahead of him in MotoGP. Marco was one of the most popular riders at the MotoGP event at Indianapolis, as his talent on the motorcycle and his ability to connect with fans both were very special. We extend our sincere sympathies to his family, team and fans."
Stefano Domenicali – Scuderia Ferrari F1 Team Principal
"It's hard to express in words the pain felt at the loss of such a cheery character like Marco Simoncelli. Events such as these and the equally tragic loss of Dan Wheldon a week ago in the Las Vegas Indy Car race, remind us how all those who take part in motor sport are always exposed to these risks. One must never drop one's guard, aware that there is nothing one can do against fate.
"Now, the thoughts of all of us men and women at Ferrari and those at the Mugello circuit go out to Marco's family and friends and his team. I am really close to Fausto Gresini, a dear friend who comes from my home town, Imola, who is going through a particularly fraught time right now."
Vodafone McLaren Mercedes:
"RIP Marco Simoncelli. Our thoughts are with his family, friends and the MotoGP paddock at this sad time."